It doesn't matter which country you go to globally; every country has its own charms regarding the culinary arena. And never more so than when it comes to desserts. Oh, sweet heavenly desserts. What would life be without them?
The mainstay of desserts, i.e., chocolate, was developed by the Mayan culture between 1000 BC and 900 AD by grinding cacao beans. Oh, where would we be without this food of the Gods?
Indeed, traditional Mexican desserts have developed far beyond what they used to be like in the European colonists' times. That's why it would be a huge loss if you didn't try out some of these culinary delights. The great thing about Mexican desserts is that many of them are light enough that you don't have to sacrifice an entire day's calories to partake in it. It's also fascinating to note that Mexican desserts are heavily influenced by the Spanish colonists that invaded Mexico in the 1500s.
Read on to see 5 Mexican dessert recipes that will entice you to move to Mexico asap.
1. Flan
This creamy caramel-topped flan dessert is sweet enough that it can tickle your dessert cravings but not too sweet that you feel like you have a cavity coming on. More of its creamy custard goodness is something you could do well with. It's easy to make as well. All you need are five easy-to-find ingredients – eggs, sugar, condensed milk, evaporated milk, and vanilla extract. Simple, right? It's also fun to make with children, as they love seeing all that sugar turn into caramel right before their eager eyes. Be careful, though, because it's easy to burn caramel by not paying attention to it.
2. Horchata
horchata is a rice-based Mexican drink made from milk, vanilla, and cinnamon. You can't get it simpler than this! You can also add other ingredients like nuts to give it a more earthy flavor. The sweetness of horchata depends entirely upon how much sugar you use. You can adjust it according to your preference. Preparing horchata is as easy as stirring cinnamon, vanilla, sugar, and milk into the rice water. You can prepare the rice water by blending rice and water in a blender until the rice begins to break up. Remember to let the rice water stand for 3 hours before preparing horchata.
3. Paletas
We wouldn't have a complete set of traditional Mexican desserts without adding in Paletas. Because of the year-round availability of fresh fruits, paletas are a staple Mexican dessert. But unlike the American counterpart, Paletas aren't sweet and sticky popsicles that will ruin your children's teeth in a jiffy if you don't watch out. Paletas are usually made of chunks of fruit and nuts, which means that they are healthier than most desserts and popsicles out there. The combination of fruits and nuts can be adjusted depending on your taste and preference.
4. Tres Leches Pastel
If you know Spanish (high school Spanish anyone?), you know that Tres Leches means three kinds of milk and pastel is cake. Thus, this is the "3 kinds of milk cake."This cake is easy to make. You make a simple sponge cake as you desire. After that, you will soak the sponge cake in a milk syrup or a sweet, creamy sauce made of evaporated milk and condensed milk. If that wasn't enough, in the final preparation stage, you spread whipped cream all over the cake to add to its creamy goodness. As you might imagine, this cake is rather rich and if you need to prepare your stomach for its heavy sweetness. But it's easy to prepare and will impress your guests suitably with your Mexican desserts knowledge.
5. Mexican Churros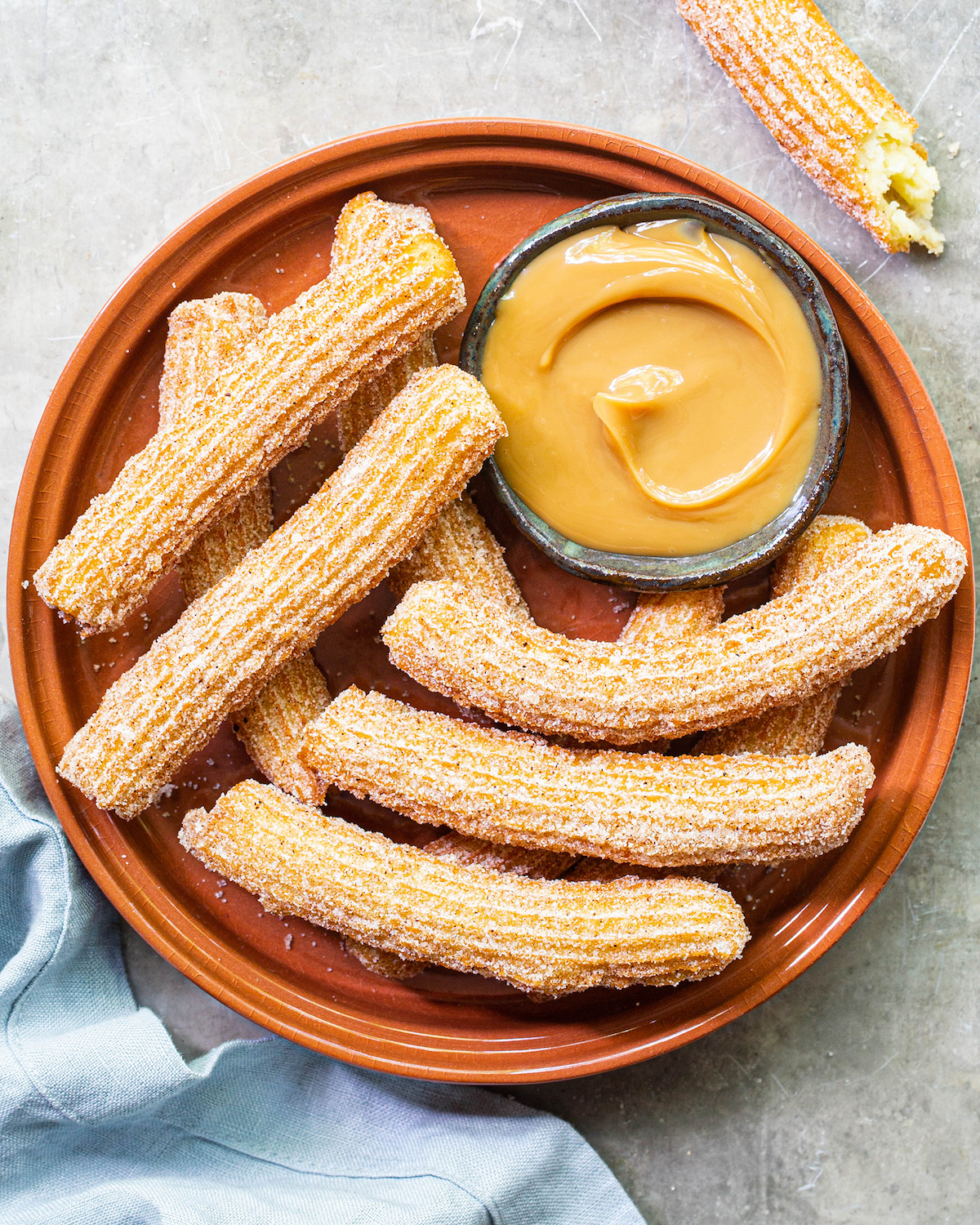 A list of traditional Mexican dessert recipes would not be complete without the ubiquitous Churros. Mexican churros are also called doughnuts as they are made very similarly to American doughnuts. But don't be fooled – they are in a completely different league than the doughnuts you know and adore. The sugar and cinnamon-coated flour sticks are fried until golden and then rolled around in cinnamon sugar yet again.
The magnificent thing about churros is that you dip them into dulce de leche or chocolate syrup to get the full benefit of them. And you have to eat them piping hot! What's dulce de leche? It's like caramel, except while the caramel is made by slowly cooking down sugar, dulce de leche is made by slowly cooking cow's milk and sugar together. It is a decadent and not to be missed treat.
Experiment With and Make These Mexican Dessert Recipes Your Own
The great thing about cooking and making desserts is that it's all about creativity and letting your inner connoisseur have its day in the sun. Do not let yourself be limited by what the cookbooks or online recipes say about making these desserts. Add your own flair into it and make it your own.
For example, with churros, you could make ice cream sandwiches out of them. Or, with the churros, you could add chocolate into the churro itself (by hollowing it out). The possibilities are endless, and it's time for you to realize that the sky is the limit when it comes to experimenting with traditional dessert recipes of all kinds. This is also a great way of bonding with your children – let both of your imaginations soar to the skies and make these recipes your own. Perhaps you will pass them down from generation to generation as your dessert legacy.
Traditional Mexican Desserts Are Waiting for You
Suppose you weren't sure about preparing traditional Mexican desserts before; no need to fear anymore. It's time to break out of your dessert shell and wander into the unknown lands of Mexico and its dessert recipes. Start with the easy stuff, like paletas or horchata. And then you can move on to the difficult stuff once you are ready. If you liked this article, please check out the other enlightening articles on our website.