Heading into the New Year is usually a time filled with anticipation: there's an electric buzz in the air about new trends descending upon us. For restaurateurs, food lovers, and producers, it's all about the hype shaking up the industry, new dishes to try, cuisines to explore, cooking hacks, and new equipment to do them all. But just as 2020 was a year like no other, 2021 is shaping up to be a similar chapter. With indoor dining heavily restricted, many restaurants have adopted new, creative strategies to stay ahead of the curve.
From temperature checks to putting up plexiglass barriers and installing portable hand washing sinks in addition to washrooms, restaurants are adopting safe dining initiatives to stay in business. Not only are these measures required, but they also provide customers peace of mind knowing that they can enjoy their favorite dishes while staying healthy and safe. Are you looking for ways to reinvent the dining experience? Discover these COVID-19-friendly restaurant trends defining 2021.
QR Codes for Contactless Menus
Customers are always on the hunt for new dishes to try or gravitate towards familiar favorites. Typically, they would flip through the menu and be captivated by mouth-watering photos. Now, they can do that on their phones. Many restaurants now offer QR codes that customers can scan using their smartphones to "flip" through the menu and even alert their server when they're ready to order or pay. Other exciting possibilities for QR codes also include using augmented reality in showing cooking and packaging, so customers can see how their food is prepared, which adds to the novelty of their safe dining experience.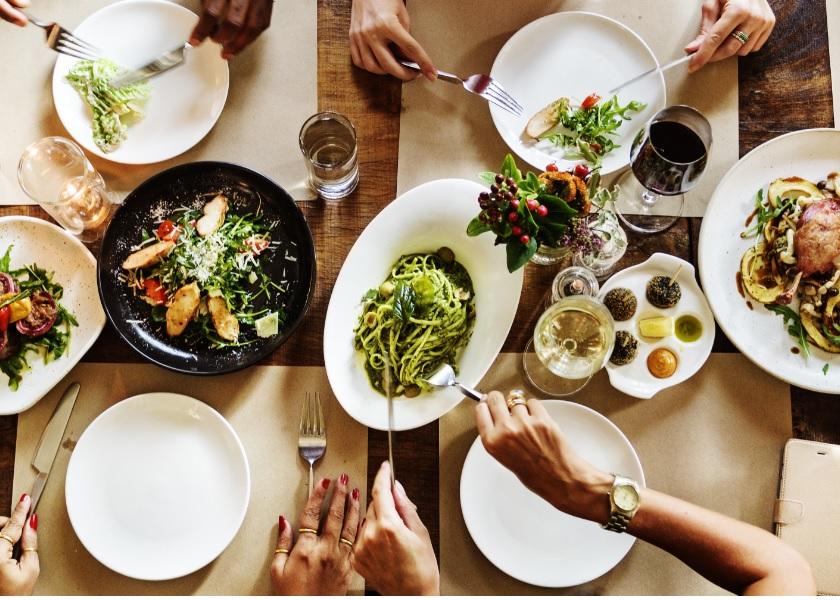 Drive-In Restaurant Service
You've done drive-through, but have you tried drive-in? Once a popular diner attraction, drive-in meals are back on-trend as indoor dining restrictions are in place. With drive-in service, customers can place orders online or through a mobile app, drive to a pick-up point, and park to eat outdoors. Think drive-in movie theatre — but customers enjoying their favorite meals in outdoor picnic-style. To increase safety measures, many restaurants are also installing portable hand washing sinks in these outdoor dining locations, so customers can quickly step out of their cars to sanitize and go back in to eat safely.
Set Up a Ghost Kitchen
Are we ever returning to sit-down, indoor dining? There's no doubt the most burning question that restaurateurs and food lovers are asking, but the truth is, there is no clear answer in sight. But that doesn't mean we can't enjoy our favorite meals and deliver them creatively. Many restaurants are shifting towards the ghost kitchen model. With more orders moving to take-out and delivery, dining areas are getting smaller — and so are kitchens. Ghost kitchens are much smaller and can run on reduced rental costs, lower electric bills, minimal furniture, and mobile equipment like portable handwashing sinks. These savings can even justify shaving off a few dollars from the menu, so it's easier to attract customers and generate steady revenue.
Contactless Ordering and Payments
There's no shortage of contactless ordering and payment portals that customers are now turning to. Aside from QR codes on location, more restaurants are also signing up for mobile apps. With indoor dining not an option for many people, mobile ordering and delivery allows customers to recreate their favorite dining experiences at home in an entirely safe, contactless manner. This shift to mobile ordering means sustained revenue, staff safety, and excellent customer service.
Zero-Contact Temperature Checks
When restaurants reopen or accommodate guests at their location, temperature checks are a primary defense against COVID-19 transmission. Staff can use zero-contact temperature scanners at the door before admitting guests inside. If the scanner shows even the slightest uptick from normal temperature, they can be refused entry, which can help prevent the spread of COVID-19. And because it's powered by contactless digital infrared, restaurant staff can reduce their potential exposures as well.
Redefining the Restaurant Experience
With nearly a year into the global pandemic, many restaurants have been forced to get creative to keep their business afloat. And while they're a lot of work, these safety measures and new ideas are a long-term investment that protects their brand and customer trust. Restaurants that invest in customer safety and creative sales and operations strategies now are likely to earn steady revenue enough to weather the financial impact of the pandemic until we can safely dine indoors or at-location again. Until then, or even when it's safe, we can expect these trends to continue as we all become more conscious of food safety and customer experience innovations.